Chennai is a bustling city on the southeastern coast of India, also known as the "Gateway to South India." It is a city steeped in history and culture, with many landmarks, temples, and museums to visit. As a popular tourist destination, there are numerous hotels in Chennai. However, selecting the right one can be daunting with so many choices.
Here are five features to consider before selecting hotels in Chennai:
Location
The first feature to consider when selecting hotels in Chennai is the location. Chennai is a sprawling city, and traffic congestion can be a significant issue. Therefore, it is essential to select a location that is convenient for your visit.
For instance, if you are in the city for business, select accommodation near the city center or a commercial hub. On the other hand, if you are visiting for leisure, select accommodation near tourist attractions or the beach. It is also essential to consider the proximity to transportation options, such as the airport, train station, or bus stop. This can make travelling to and from the accommodation much easier and more convenient.
Amenities
The second feature to consider when selecting accommodation is the amenities. Chennai can be hot and humid; therefore, selecting accommodation with air conditioning is essential. Also, look for amenities like a swimming pool, gym, or spa to make your stay more comfortable. If you travel with children, select accommodations with a playground or a kid's club.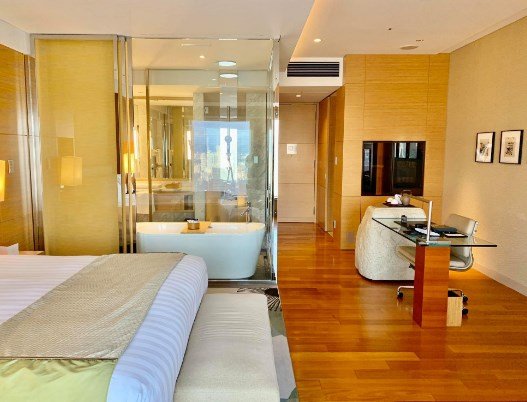 Budget
The third feature to consider when selecting accommodation is your budget. It is advisable to research different options and compare prices before deciding. Additionally, keep in mind that prices may vary depending on the season. While budget is an important consideration, it is also essential to factor in the overall value for money. Sometimes, slightly higher-priced accommodation may offer better amenities and services, making it a better value in the long run.
Safety and Security
The fourth feature to consider when selecting accommodation is safety and security. Chennai is a safe city, but it is essential to take precautions like any other city. Therefore, selecting accommodation with security measures such as CCTV cameras, 24-hour security personnel, and secure access systems is advisable. Additionally, select accommodation in a well-lit area. Apart from selecting an accommodation with reasonable security measures, it is also essential to be aware of your surroundings and take personal safety precautions.
Reviews
The fifth feature to consider when selecting hotels in Chennai is the reviews. Reading reviews from other guests who have stayed in the accommodation can provide valuable insight into the quality of the stay. You can find reviews on websites like TripAdvisor, Booking.com, and Expedia. You can also ask your friends and family members for recommendations. When reading reviews of accommodation in Chennai, it is essential to take note of common themes and issues mentioned by guests. Look for recent reviews from guests with similar travel preferences to get a better idea of what to expect.
Conclusion
Choosing appropriate accommodation in Chennai is vital for ensuring a pleasant and comfortable stay. It's important to carefully evaluate several factors such as location, amenities, budget, safety and security, and reviews before making a decision. By conducting thorough research and taking all these aspects into account, you can find the ideal accommodation that meets your needs and preferences. Remember to priorities your comfort and convenience to make the most out of your stay in the city.