How to unblock someone on fortnite mobile  Ps4, Xbox, PC ? OR  How To Add Friends On Fortnite Mobile ,Ps4, Xbox, PC ?  Here is solution on your issue.
Having the best gaming phone is a step is what you need for you to have a correspondingly best gaming experience. However, some things may often get in the way. For instance, running low on charge: well, this one is controllable.
Other things may put you at your wit's ends trying to figure out how to fix them. Quite often you may find that you are not able to see a friend on your list only to find out later that you have blocked them.
https://www.youtube.com/watch?v=LEkny-qbAEc
The first thing you will do is try and unblock them: which is very frustrating if you are not able to find your way around it. It is because the whole thing about unblocking someone on fortnite mobile or Xbox , ps4, Xbox one, PC, Nintendo switch  can get a little bit confusing: which may seem much at the time. Blocking someone denies them the ability to see whether you are online or not and also bars them from communicating with you.
Well, it is also worth noting that blocking someone does not have to be accidental. You are allowed to do it if someone is constantly harassing you and you want to put a stop to it. how to unblock someone on fortnite season 9, season 10, season 11 ?
Well, you might have done it from the friends list or the in-game menu. With the following guide, you should be able to unblock someone effortlessly.
How to unblock someone on fortnite mobile
Step 1
Find your way to the lobby. You will find it at the top of the screen among other tabs. Once you are there, you should go ahead and locate your friends list. Have you spotted it? Good! Now, open the friends list.
Step 2
Open the friends list as you normally would. It will open up: you will find that it does so just like any other day. If you look keenly, you will see that there are buttons at the top of the list. It is where the settings are. Settings are what you should be looking for at this point. If you are having a hard time finding the button, check on the top right corner. It is where it is located. .. How to unblock someone on Fortnite mobile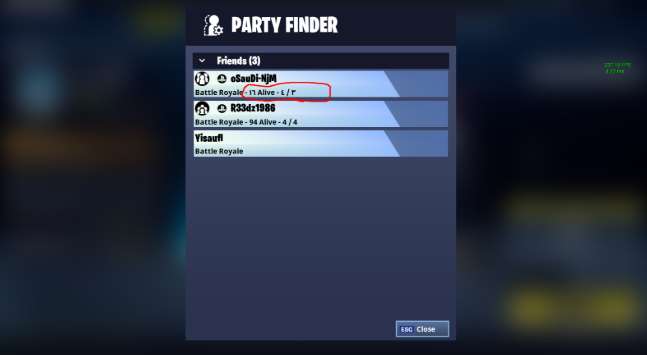 Step 3
All is not yet done. There is still more to the settings. If you click on settings, you will notice that you still have more options. Looking carefully you will realize that it breaks down further to having Social Settings. That should be your destination.
Step 4
Open the social settings. You will have to deal with many options lists by the time you get done: do not get exhausted yet! So, on the options list, you are required to find 'Hide Blocked Players'.
It is where most people go wrong, and you should, therefore, be keen. By default, the option is usually checked. If you find it unchecked well and good. But if you see it checked, you should uncheck it. Why? If you fail to do so, you will not be able to unblock anyone.
Step 5
On unchecking 'Hide Blocked Players', you should go back to the friends list. You will notice something different: it now has another list of 'Blocked Players'.
If you are unable to see it, check at the bottom of the friends list. That is where it is located.
Step 6
The Blocked players tab should be opened if you are to be able to unblock the player. It is where you will see a full list of all the players that are blocked. Well, you probably do not want to unblock everyone.
For that reason, you should carefully select the name that you want to remove from the 'Blocked players' list. On doing that click on the name and you will be given an option for unblocking. Select unblock.
Step 7
The name will be transferred back to your regular friends list. To ascertain that, you can go back to the friends lists and confirm if the name is there. If you can see it, then that means the person is unblocked.
If you would wish to unblock more persons, the procedure is the same, go to the blocked players list, open it, click on the player's name and select unblock.
Step 8
By now you are done with all the players you need to unblock. There is a probability that you no longer need the menu again. At this point, you will go back to the social settings and restore default settings. That is, to enable the 'hide blocked players'.
Well, you may ask whether it is essential. Yes, it is. For one, you do not want to unblock someone accidentally; also the entire list will make your friends list cumbersome. You do not need it anyway.
There has been a lot of confusion regarding unblocking someone on fortnite mobile. The good news is that if you use the guidelines above, you will not break a sweat. It has been tried and tested, therefore useful. The guide is simple and very understandable.
How To Add Friends On Fortnite Mobile ,Ps4, Xbox, PC ?
How To Add Friends On Fortnite Mobile ,Ps4, Xbox, PC ? Follow steps mentioned below videos.
It will take you step by step until you get everything done. The beauty of it is that the next time you will want to unblock someone, you might not even need to read it word by word. You will get it on the first trial. Also, remember that if a player keeps harassing you, there is an option for you to make a report. Report the person then go ahead and block them.