In the world of digital technology, every small piece of information can be found on the Internet. There are trillions of users around the world, who access the Internet and now, you can imagine how much data is sent and received on a daily basis. Here, security plays a crucial role when it comes to sending and receiving of data. Every user who is sharing some information with the other user would want his/her data to be secured. So, here emerged the requirement of a secure network where people could share all sorts of information without worrying about its security.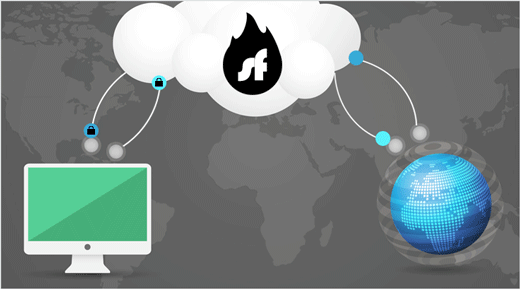 With the aforementioned requirement evolved the term VPN, also known as Virtual Private Network. This network was created in order to establish a secure tunnel between two public networks. The network was created through public wires (the Internet) in order to connect to the private network. In this way, secure information was shared with the help of private network. Rest of the public networks were unaware of any sorts of information being shared here. Ample systems help you in creating networks with the help of the Internet that basically acts as a medium in order to transport the data.
A secure VPN has one imperative component which is known as Encryption. When the data is shared through a VPN, the sent data is encrypted and once it is received at the required system, only that particular system is able to decrypt that data.
There are several advantages of using a VPN. Let's have a quick look:
It fades away your existing IP and provides you with a new private IP by using a secure connection
Provides security in comparison to the open i.e. public connections
One can do uploading and downloading privately
One has an easy access to all the local channels even while traveling
VPNs can bypass the Internet Censorship
Above were some of the major advantages of a VPN. Now, since we are aware of all these advantages and have understood the importance of a VPN, we should also be aware of how to choose the best VPN for our work. In market, we can find ample VPN services but then it is important to choose the best, the one that can suffice all our needs.
Below mentioned are some of the major tips before choosing a VPN that we summed up on the basis of information from Itday.com.
LOCATION OF THE SERVERS- If your VPN service provider provides its servers that can be accessed across the globe then that is a great deal. It depends upon what your priority is, whether you want to use all the channels without any sort of restriction or choose a service where there are privacy laws that are extremely strict.
NO LOGGING- A VPN definitely secures all your information and communications from eavesdroppers; but at the same time we should be aware that our service providers also have access to our systems and data. So, before purchasing any services make sure that you study all the terms and conditions as well as the privacy policies and do ensure that they cannot login on your behalf and access your data.
PRICING- There are ample VPN service providers in the market. Some are free and some are paid. One must be aware that the free ones have access to our systems and can always login; whereas the paid ones cannot login and they keep our data totally secure. Amongst the paid ones, always choose the service providers that have multiple options in terms of payment like, Credit Card, Pay Pal, Bit coin etc.
SPEED- Whenever you will connect your system to a VPN, the Internet speed will definitely reduce a bit. But, if you go for reputed VPN service providers, Internet speed reduction won't be an issue. Always read the reviews, before going for a VPN.
SOFTWARE- None of us would want our VPN software to be clunky. Select the one which is easy to set up and is user friendly.
Study the reviews of the various paid VPNs available in the market and always make sure that your privacy is maintained as more number of tools is most likely the source of cyber-crimes as well. One should not make any compromise when it comes to purchasing a VPN.
Before installing a VPN it's always better to dig into reviews. You can start with FindReviews or search in Google for more about each VPN provider. The most important thing is to choose cautiously.