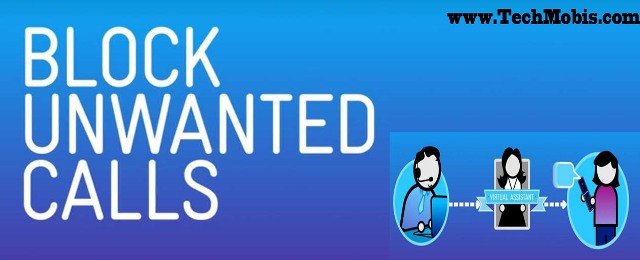 How to stop unwanted phone calls on landline ? Just imagine… After a long hectic day of work at office you just reach your home at 6pm evening, you get yourself a bath to feel fresh and the delicious dinner is about to get served on the table by your beautiful wife. Eventually, you receive a call from some unknown party asking you to buy something. Well, you can surely imagine that how irony will be that situation? Yes, you'll definitely lose your temper and your lovely dinner will be ruined for sure. Having unwanted calls on landlines in USA is not a new hurdle, since the technology is being revolutionized on every other day for the advancement of our lifestyles there are still many demerits of it too which are really cautious for us. Just as stated above in a case, receiving unwanted and spam calls on landline is simply a depressing state one can experience.
How to stop unwanted phone calls on landline
But just wait a while, today we are trying our best to make sure you won't receive any of these types of lame unwanted calls anymore on your landline. There are various ways explained on the internet by different writers and blogger but today we are quoting you the best, ultimate and easiest 3 ways to block unwanted calls on your landline if and only if you are living in United States of America and using any of the following carriers as your landline telecommunication service:
AT&T
Verizon
CenturyLink
Fairpoint
Frontier Communications
How to stop unwanted phone calls on landline
Generalized Way To Block The Unwanted Calls!
Blocking anonymous and unwanted calls and text messages on smartphones is now very much easy because of the native support which is available by default in the device OR you can easily download any third party applications from the app store and use it to block the unwanted calls and SMS accordingly. The question is how you can block these calls from lame telemarketers and spammers? Don't worry because we are here with the right solution. Call blocking feature is natively offered by many service providers which allows you block specific phone numbers by charging you with a very nominal monthly line rent for using this feature but, this is not the only way you can use to block these unwanted calls and stop getting harassed by telemarketers.
Read :-  Consolidated Communications Phone Number & Email
Following the below given step by step guide you can secure yourself from getting any further spam and unwanted calls on your landline.
Ping your service provider, reach out to a customer representative and ask first whether call blocking service is available or not? If yes then you are lucky. Just ask them to enable this feature and they'll charge you a little for this with your monthly line rent. There may be a possibility that your service provider might provide a variety of call blocking feature but doesn't allow you to block a specific phone number, but don't get disappointed all you have to do is just keep reading this till end. While you'll request for the call block service keep listening to the receiver of your telephone. Suddenly you'll be asked to dial *60 and enable the feature. Keep listening for the instructions and afterwards you can activate the call blocking service by pressing 3. Now you have to add a number to be blocked, please note that this number will remain in the blocked directory until you remove it manually or disable the call blocking feature as a whole. Now you'll be listening to a series of automated instructions.
Focus and follow the instructions and do as it directs. Different services providers will have different set of instructions.
Now enter the area of code followed by the first phone number to want to be blocked and then press the # button. Repeat this step until your block list is not fulfilled.
Please note that some service providers will allow you only to block 6-12 phone numbers at a time. So you have to decide the precedence by yourself.
Now, if you want to remove any phone number from your block list dial *60 once again and follow the automated and prompted instructions. And, to disable the call blocking feature you have to dial *80 after you hear a dial tone. If you are simply willing to block the incoming of all the anonymous calls deliberately then dial *77 from your phone as this will enable the anonymous call blocking feature. But again, just please note that this service is only available to you if you are holding a legitimate caller ID. To deactivate this feature simply dial *87 and follow the instructions.
Read : what is voip on caller id
Blocking The Calls On Your Carrier Specifically
There are various service providers in USA who provide landline telecommunication services to make your communication easier and faster. Now let's tell you the magical ways for how you can enable the call blocking features specifically on your carrier.
Block Unwanted Calls On AT&T:- If you are having a digital phone you must have a login panel for viewing your details on the web. You can simply login to your myAT&T account and complete the following steps:-
Select Home Phone> My Phone Service > Manage Features.
Under Call Filtering, select Call Blocking.
Select Onto start Call Blocking, or Off to turn it off.

Add or remove numbers from your blocked list
In Call Blocking, enter the number you want to block in Add Number. Make sure to include the area code.
Select Add. You may enter up to 20 phone numbers you want to block.
Select Save. Callers from your blocked numbers will hear, "The number you dialed will not accept your call," and the call will end.
Note: If you are willing to delist a number, simply select the X beside the number to be removed and then click, Save.
You can turn ON or turn OFF the call blocking feature by dialing *60 and *80. Enabling and disabling of anonymous call blocking feature is as easy as pressing *77# and *87#.
Block Unwanted Calls On Verizon:- This service provider will allow you to add 6-12 different phone numbers you want to get blocked. Following are the steps to block a number:-
Lift up the receiver
Press *60
Press 3 to enable the feature
By following the recorded instructions you can easily add and remove the numbers. For disabling the feature temporarily, Dial *80 and press 3.
Block Unwanted Calls On CenturyLink:- With the anonymous call rejection feature of CenturyLink you can even reject calls from the people who block their names and numbers form appearing on your caller ID. Turning on the feature:-
Pick up the receiver
Press *77
Wait and listen to the confirmation
You're done!
Press *87 in similar manner to disable the feature
Block Unwanted Calls On Fairpoint:- Fairpoint is comparatively a less in size and smaller but an independent landline service provider in USA. They've their own advanced feature for blocking the unwanted calls on your landline. The feature is called 'Do Not Disturb' which allows you to disable every type of incoming on your landline. Following are the steps to acquire this service:-
First, search out whether the 'Do Not Disturb' service is available in your area or not by reaching out to the nearest Fairpoint business office. If it is available, you can agree and avail by just paying a minimal amount of $2.
Now, pick the receiver of your handset and start with the activation process
Dial 77 followed by a (#) key
Just wait. And, verify the working of the feature by calling from any other number
To deactivate, dial 76 followed by a (#) key
Block Unwanted Calls On Frontier communications:- This service is also one of the among vastly used service in USA. Following is the process to block the calls:-
Pick up the phone
Press *60
Press 3 to turn on the services
Press #01 or #01# to add the last caller to your block list
Pick up the receiver
Dial *77
Hang up and wait for the confirmation
To deactivate, dial *87
Listen and wait for the confirmation
Limit The Unwanted Calls By Using National Do Not Call Registry
The government of United States exactly knows the level of trauma there citizen go through in their daily lives when they receive lots of unwanted calls on their landline numbers. Do Not Call Registry is a service introduced by the federal trade commission in 2003 officially to get rid of such type of calls. Its main purpose is to provide an opportunity to all the consumers in USA and limit the number of calls they receive on your landline or even or mobile.  You may call 1-888-382-1222 or visit their official page www.donotcall.gov and get yourself register and provide a list of number to get fairpoint call blocking . You've to be patient for few days to get the numbers blocked. As per the economic report of 2009 almost 72% of the American citizens are happy with this service.
So, summing up the ocean of words in a nutshell. Today, we have descriptively defined you about 3 different legal and legitimate ways about how you can prevent yourself from getting unwanted calls of spammers, telemarketers, and even from your ex. Don't forget to share the word with your loved ones because they also reserves the right to get rid of these types of call.