Video Converter Free Download Full Version – Video converters are programs that can convert the format video files are stored in. That can be useful in a number of ways, and more often than not it is used to ensure a video is compatible or to compress the video file.
Nowadays video converters can come in many different shapes and sizes. That is why we've compiled 5 of the best options that are available for you to choose from.
Video Converter Free Download Full Version For windows
Online Video Converter
Online Video Converter is a free web-based app that will let you upload and convert any videos below 100MB. It supports most of the common video formats you're likely to require, including MP4, AVI, MKV, MOV, MPG, WMV, FLV, M4V, VOB and SWF. It also supports several audio formats, letting you extract the audio from videos.
As far as video converters go, it is definitely one of the more convenient options and will let you quickly switch your videos to the format that is required without having to download or install any software.
Try  :- Here 
HandBrake
HandBrake is a free, open-source video converter that can run on Windows, Mac, or Linux. It supports a practically all modern video formats, and is one of the more versatile and powerful options available.
The main downside of HandBrake is that its user interface leaves a lot to be desired and it can be a bit complicated for beginners. It will take some time for you to familiarize yourself with its features, but once it does you should be able to convert videos and adjust the video settings very precisely.
Try :- Here 
Freemake Video Converter
Freemake Video Converter is one of the more popular video converters on Windows. It supports a wide range of formats, has lots of helpful presets, and is relatively easy to use – despite its somewhat dated-looking user interface.
Be aware that Freemake does add branding to videos converted using the free version which is very intrusive. That is removed in the paid version however, as is the advertising present in the software itself.
Try :- Here 
Any Video Converter
Any Video Converter is available on both Windows and Mac, and is known to be one of the faster video converters that are out there. It has a streamlined user interface and is very easy-to-use, while supporting a decent number of formats.
It should be noted that there are reports of the software itself coming with bundled that are installed at the same time. On top of that the quality of higher resolution videos can be less than ideal when converted.
Try:- Here 
CloudConvert
CloudConvert is a noteworthy online converter that supports many formats and is convenient to use. It claims to allow videos of up to 1GB to be uploaded for free, but many users have issues uploading files that are even in the 100MB range.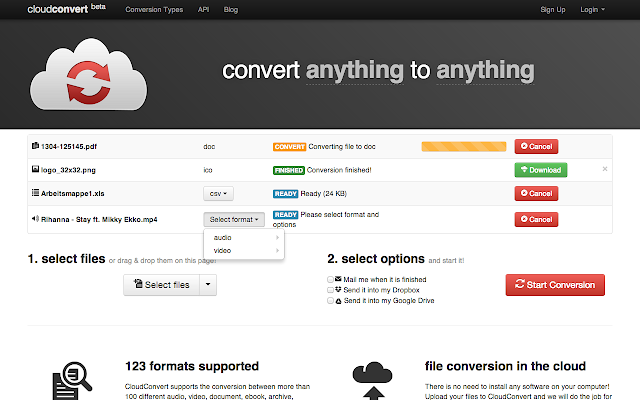 Overall it is a good option to convert smaller video files between formats. However the free service is limited to '25 conversion minutes' per day – which will prevent too many videos from being converted using it.
Try :- Here 
Final Words
Between the 5 video converters listed above you should have a range of options to choose from – each with its own unique flavor. If you have the time you should try each one out and see what it can do before you decide which you feel is best.